Cycle Tourism
Back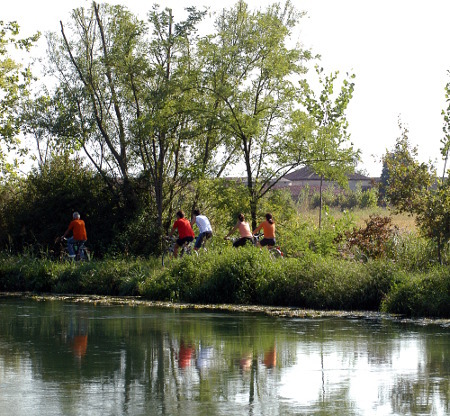 The Lodi area represents the ideal place for those looking for problem-free cycling.
The Province of Lodi has built such an extensive network for cyclists and pedestrians throughout the area as to create a true "integrated cycling system " for eco-friendly mobility, one that provides a valid alternative as well as a support to all the other means of transport. The cycle path network currently extends for over 500 kilometres.
The Lodigiano, with its harmonious, mostly flat landscape, artistic, gastronomic and naturalistic heritage – the latter marked by water courses and alluvial areas populated by flora and fauna that create niches of biodiversity - can be considered a sort of model for so-called "slow tourism". It also benefits from good accessibility both in terms of transport interchanges, by rail, road, and water, and its direct and immediate connections with the cycle paths of the provinces.
A dense network of cycle routes runs throughout the four provinces of the Lombardy Po Tourism System - Pavia, Lodi, Cremona and Mantua – with 2000 kilometres of completely flat paths away from traffic, on country roads, secondary roads and cycle paths. The network offers a wide range of opportunities for excursions from circular itineraries a few kilometres long to grand tours taking several days.