Oases and Parks
Back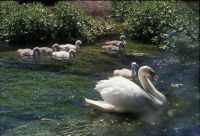 Parco Ittico Paradiso (Paradiso Fishery Park)
The Paradiso Fishery Park serves the purpose of protecting, safeguarding and making available to the public a 13,000 square meter plain area, which was originally structured, and equipped for carp and trout farming for sale purposes.
Canals cross the park surface with fresh water running from the Mortone water meadow; in the canals it is possible to observe several fish species, both from the banks and from very particular underwater observation posts.
The park has countless small stillwater used for farming several fish species bound for canal repopulation. The landscape is that of an intensely forested river area, reproducing quite accurately the wet shoreline areas of Lombardy rivers; approximately 6,000 trees have been planted.
The entire surface of the park in time has been naturally colonized by native plants and an incredibly varied fauna which includes a high number of mallards, moorhens, coots, herons, in addition to other minor birds, many of which are rare insular species. Such a varied and articulate population is simply one of a kind both to relax and observe nature of to indulge in cultural and didactic activities, besides scientific research.
Villa Pompeiana di Zelo Buon Persico
Tel. +39 02 9065714
Sito: www.parcoittico.it
E-mail: info@parcoittico.it
Clicca QUI per collegarti alla pagina Facebook del Parco Ittico Paradiso
Riserva Naturale Regionale Monticchie
The reserve stretches over a 250 Ha. Area, of which 24.5 Ha. are plain hygrophilous forest and 225.5 Hectares of agricultural land, rich of canals and springs.
Because of its natural value, which allowed the fauna to thrive, in 1969 Monticchie was included in the repopulation and capture areas and 10 years later, among the fauna protection area.
Upon request of the Municipal Government and the local WWF office, the area was placed under the environmental plan of Regione Lombardia and since 1988 it has been declared a Regional Natural Reserve.
With regard to the fauna, the most impressive feature is the presence of an important garzaia, a nesting colony for over 600 couples of Ardeidae, including the Grey Heron. The wet environment is particularly well suited to Lataste's frogs, Grass Snakes and Smooth Newts; the good quality of the reserve's spring water is confirmed by colonies of Freshwater crayfish.
Information:
Comune di Somaglia - Uff. Ambiente
Tel. 0377/5790212 Fax 0377/5790215
E-mail: info@comune.somaglia.lo.it
Sito: www.monticchie.it
Clicca QUI per collegarti alla pagina Facebook della Riserva Monticchie


Foresta di Pianura
Il bosco alla riconquista della città, per proteggerla e migliorarla.Questa è la missione affidata alla Foresta di Pianura di Lodi, il cui primo nucleo sta crescendo florido alla periferia meridionale del capoluogo con esemplari alti, ormai, una decina di metri.
I due lotti, di recente realizzazione, cresceranno andando a colonizzare l'area denominata Isolabella, nei pressi dell'ospedale Maggiore e, al di là del fiume, l'area ex SICC, per una riqualificazione complessiva di circa 40 ettari di territorio.
La foresta sarà una "dorsale di alberi e arbusti" alla quale si connetteranno altri corridoi verdi. Il tutto per dare vita ad un mosaico ambientale, un autentico "sistema verde territoriale" che avrà lo scopo di riconciliare le esigenze della vita urbana con la difesa e la tutela del territorio. Un abbraccio verde a corona della città. La Foresta di Lodi costituisce il primo importante traguardo raggiunto nella prospettiva di restituire al Lodigiano il proprio paesaggio rurale, in una dimensione di equilibrio tra l'operosità dell'uomo e le esigenze della natura.
Rappresenta il più grande investimento ambientale realizzato dalla Provincia di Lodi, un investimento straordinario che cresce silenzioso e per questo merita di essere raccontato.
AREA COLDANA COSTINO: la prima porzione realizzata nel 2003 nella quale sono state messe a dimora quasi 40.000 essenze forestali; presenta al suo interno una zona umida, un percorso ciclopedonale e un'ampia area didattica.
PARCO DELL'ISOLABELLA: l'area più prossima all'abitato, è uno spazio aperto immerso in una cornice di piante a portamento sia arboreo che arbustivo tra le quali le più rappresentative sono Frassini, Pioppi, Farnie, Ontani, Biancospini, Noccioli e Viburni.
AREA EX SICC: lambisce un'ampia ansa del fiume Adda ed è caratterizzata da tre sottozone aventi funzioni naturalistiche diverse e diversa prevalenza di essenze tra le quali citiamo Pioppi, Salici, Ontani, Olmi, Gelsi, Frassini, Ciliegi e Noccioli; il percorso ciclopedonale al suo interno si raccorda con la rete ciclabile collegata al centro cittadino.
Per informazioni:
E-mail: segreteria@lodigianoterrabuona.it


Parco Adda Sud (Adda Sud Natural Park)
The main purpose of the park is to retain the balance between human presence and anthropic activities, in order to preserve the natural environment, the landscape and the culture that still belong there, but also to gradually reclaim the degraded and compromised areas along the river banks.
The Adda Sud Natural Park stretches over a 230 square kilometre surface, between the Lodi and Cremona countryside and along the south course of river Adda, between Rivolta d'Adda in the North and Castelnuovo Bocca d'Adda, at the mouth of river Po, in the South. The park area stretches on the plain area along the banks of the river and includes large farmed plots, natural and semi-natural woods and poplar fields.
Near the river are some original woods, wetlands, oxbows and mortlakes. Almost the entire marsh area is included in game farms; as a consequence, for hunting purposes, these areas have never been reclaimed nor indiscriminately felled.
The most important natural reserves of the area are: the Adda Morta-Lanca della Rotta natural reserve (an old branch of the river in the municipality of Castiglione d'Adda) and Zerbaglia, home of the largest Garzaia natural reserve of the entire park.
Centro ambientamento della Cicogna Bianca (Parco Adda Sud)
All'interno del Parco Adda Sud, nel comune di Castiglione d'Adda, è istituito il Centro di ambientamento della cicogna bianca. Grazie all'istituzione dell'area protetta, infatti, il territorio del Parco Adda Sud conserva caratteristiche ambientali coerenti con le esigenze ecologiche della Cicogna bianca, come dimostrano i tentativi spontanei di nidificazione e i numerosi avvistamenti di cicogne bianche in migrazione, avvenuti tra la fine degli anni Novanta e l'inizio del terzo millennio.
Sede: Viale Dalmazia, 10 - 26900 Lodi
Tel. 0371 411129 Fax 0371 417214
E-mail: info@parcoaddasud.it
Sito internet: www.parcoaddasud.it